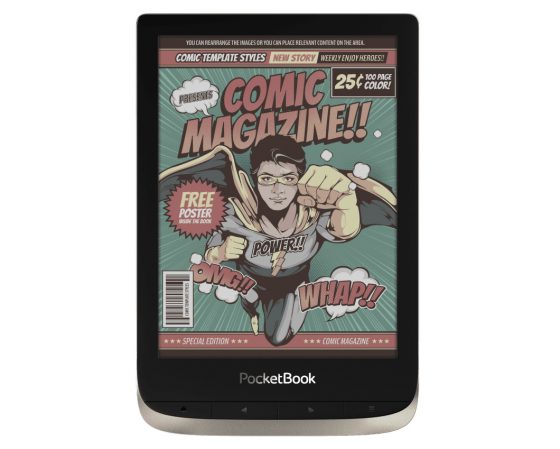 Over the past two months we've seen two new ebook readers with color E Ink screens get released, the Pocketbook Color and Onyx Poke2 Color, and both have already disappeared from the market.
Did they just sell out faster than expected, faster than demand could keep up, or has Pocketbook and Onyx already decided to shelve their color E Ink experiments?
As mentioned in my color E Ink review, color E Ink has some notable flaws. Contrast is worse than regular E Ink screens, the color resolution is quite low, and there's a screen door effect where you can slightly see the color filter as a tiny grid of dots over the screen.
Despite that, I still think that color E Ink has some potential. It's nice having covers, images, and stuff like comics in full color, and unlike LCD screens, color E Ink screens look better under bright light instead of worse so you can read out in the sun without any issues, and battery life with E Ink lasts much longer than with LCD.
According to Onyx, their first batch of the Poke2 Color sold out in less than 24 hours. But that was nearly 2 months ago now and they have yet to restock, and their product page doesn't mention anything about more being available soon.
The Pocketbook Color was available for a few weeks from Newegg, but for the past couple of weeks it's no longer available either. Now the product page no longer even shows up under Pocketbook's list of products.
Perhaps both color E Ink devices were more poplar than expected and both companies are waiting for a restock. Or maybe both companies have decided that color E Ink isn't refined enough yet and is too much of a niche product.
It's too early to tell either way, but I find it a bit odd that Onyx has just released another round of new devices and is taking pre-orders for the new Note Air, but as soon as the Poke Color sold out they stopped taking orders entirely, and there's no mention of another shipment coming in. Meanwhile they're already taking orders for the 2nd shipment of the Note Air.