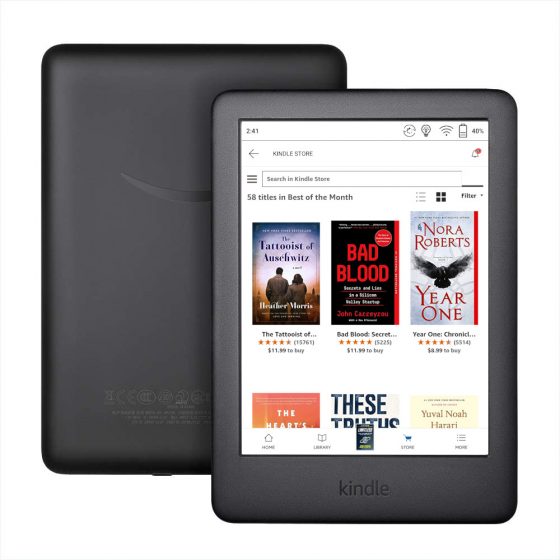 Last year after reviewing the first generation of E Ink's new Kaleido color screens, I posted about how I didn't expect Amazon to release a color Kindle anytime soon—at the time I just felt that E Ink's color technology wasn't quite good enough for the big stage.
Now after seeing E Ink's new improved Kaleido Plus color screens that come on the Pocketbook InkPad Color and Onyx Nova3 Color, I still don't think Amazon will release a color Kindle in the near future. Maybe things will change in a few years, but the odds of a color Kindle ever getting released is astronomically low, in my opinion.
The problem with color E Ink is the filter layer that adds color reduces overall contrast and makes the screen look darker and the white background look grayer, so Kaleido screens are never going to replace regular E Ink screens. The only way that's ever going to happen is if they get the refresh rate low enough on ACeP screens, which have colored E Ink microcapsules instead of using a color filter layer over the top of a regular E Ink screen.
Don't get my wrong, E Ink's new Kaleido Plus screens actually look pretty good in terms of color, and the text is easily readable despite the lower contrast, but it's just a matter of Kindles being devices primarily used for displaying text. You can't downgrade the most important aspect of reading and expect people to be happy with the change.
Sure, having color images and color book covers is nice, but how often does that really matter when you are reading ebooks?
Does is make sense to come out with a specialty Kindle for reading color content? Amazon already sells these. They're called Fire tablets, and they cost a fraction of the price of ereaders with color E Ink screens.
I could maybe see Amazon releasing a color Kids Kindle if the cost of color E Ink wasn't so high, but there's absolutely no way Amazon is going to release a Kids Kindle that costs over $300, especially when you can buy a Fire HD 10 for only $150. The current Kids Kindle only costs $109, and it's the least popular Kindle model based on the number of overall reviews (it's not even close).
Amazon is more into budget devices than expensive ones, and they can't make a color Kindle the flagship device to replace the Kindle Oasis when the Oasis has a better screen for reading text. It just simply makes no sense. They can't charge more for a device that offers a worse reading experience, so I just don't see how a color Kindle would ever fit into Amazon's lineup, not unless prices come down significantly.
I think the only way to get a color Kindle moving forward is to buy one of Onyx's color devices, like the new Nova3 Color, and install the Kindle app. I just don't see it happening any other way.