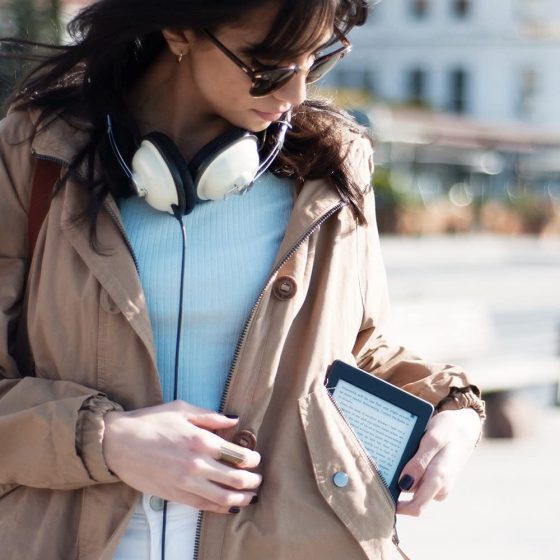 One thing that has definitely changed in recent years when it comes to dedicated reading devices is the portability factor.
For a long time most ereaders came in smaller 6-inch sizes, and there were even a few with 4-inch and 5-inch screens, but now there are a lot more ereaders with wider asymmetrical designs and larger screens that are harder to take with you because they're too big to comfortably fit in a pocket.
Most people probably rely on reading on their phones instead carrying a second device, but that doesn't work if you're reading outside in the sun. Even at full brightness an LCD screen can't compare with an E Ink screen under bright light—it's not even close.
If you follow this blog, you know I'm a big fan of ereaders with larger screens and I've been critical of Amazon for years for ignoring this market. Not everyone has great eyesight and a lot of people only read at home so having a small portable ereader doesn't make much sense.
Lately, I've been using the Kindle Voyage a lot because I often read while walking, and I really appreciate its smaller size because that makes it more portable than current models, except the entry-level Kindle but the Voyage is ten times better despite being much older. And that's part of the issue: most smaller ereaders are now low-end budget models with inferior screens and less features than larger models. That's why I wouldn't mind seeing Amazon release another premium 6-inch Kindle with page buttons, but that's probably never going to happen.
Ultimately I think that having one small ereader for portability and one larger ereader for reading at home is the best option, but that's probably not practical for some people.
What do you think? Would you rather have a small, lightweight, highly-portable ereader that you can easily take with you everywhere, or would you rather have an ereader with a larger screen?
It's probably a bit different for ladies that carry purses, but for me if an ereader doesn't fit in a pocket it's staying home. I like asymmetrical devices like the Kobo Libra 2 and Kindle Oasis, but they're just too wide to comfortably fit in most pockets.