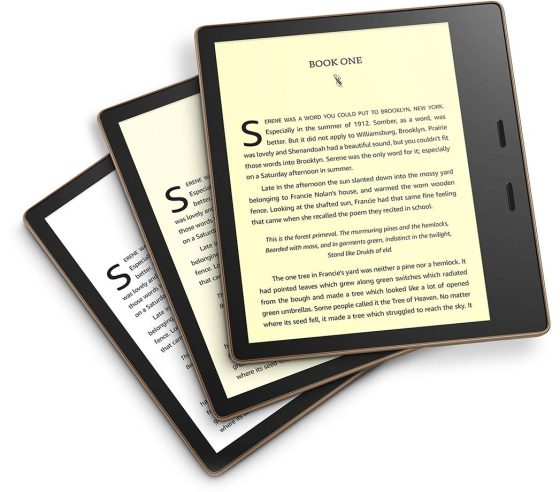 Last year Amazon released a new entry-level Kindle with a 300 ppi E Ink screen and then at the end of November they released the Kindle Scribe with a 10.2-inch screen and notetaking capabilities.
In fall of 2021 Amazon released the 6.8-inch Kindle Paperwhite. Then they started selling a 16GB version in 2022, and now they just added a couple of new color choices for the Kindle Paperwhite yesterday.
And yet, Amazon hasn't upgraded the Kindle Oasis since 2019, and that was just a minor upgrade to add a warm frontlight. The design of the current Kindle Oasis actually dates back to 2017 when the Kindle Oasis 2 was released.
At this point in 2023, the Kindle Oasis just doesn't make any sense in its current form compared to the other newer Kindles, especially since Amazon is still selling the Oasis at full price.
The Kindle Paperwhite Signature Edition has several upgrades over the more expensive Oasis, and even the newer entry-level Kindle that sells for only $99 has a couple of advantages over the Oasis, like having a USB-C port and coming with twice as much storage space as the base Kindle Oasis.
I know some people are still holding out hope that Amazon will release a new Kindle Oasis soon, but at this point it's starting to look pretty doubtful. We're now going on year six since the last Kindle Oasis redesign. If they were going to upgrade it you'd think they would've done so by now.
But on the flip side, it's very unlikely that Amazon is going to release a new Paperwhite, Scribe, or basic Kindle in 2023. If they're going to release a new Kindle at all in 2023 it's likely going to be a new Oasis or perhaps something entirely different with a new name.
It was surprising how many people were disappointed that Amazon didn't release a new Kindle Oasis in 2022, especially after the Kindle Scribe was announced. A lot of people really like having a Kindle with page-turn buttons. Hopefully the Kindle Oasis 3 won't be the last Kindle to have them.