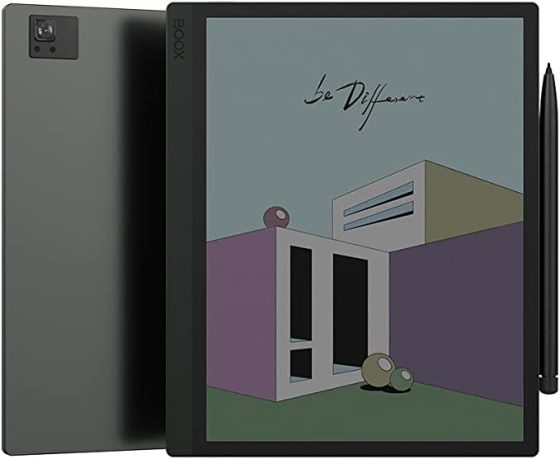 Last week Onyx announced the upcoming release of the new 10.3-inch Tab Ultra C with a color E Ink screen, and now the device is available to order from a couple of Onyx's retailers.
The Boox Tab Ultra C is now listed on Amazon for $599 through Onyx's official Amazon store. Shipping is listed at 1-2 months out, but Amazon's estimates are always overly conservative—it will most likely ship in a couple weeks around mid-May.
The first wave of pre-orders already sold out on Onyx's website, and they're no longer accepting any orders right now so at least you can order from Amazon if you want to get in on the early orders.
The new Tab Ultra C is also listed as a pre-order on the B&H Photo website, but for some reason the price is $50 higher there at $649.99. The estimated shipping date is listed as May 15th.
In case you missed it, the Tab Ultra C is Onyx's first large-screen color E Ink device, and it's also the first to use E Ink's latest Kaleido 3 screen, which improves color quality and increases the resolution of color content to 150 ppi (all previous Kaleido screens have 100 ppi for color), and it's also the only 10″ E Ink device other than the Kindle Scribe to have a 300 ppi screen (for black and white content).
Other than the color screen, the Tab Ultra C is pretty much exactly the same as the regular Tab Ultra that was released about 5 months ago. It's meant to be more of a versatile tablet PC than other E Ink devices, as Onyx's Tab line has a dedicated GPU to speed up performance of the E Ink screen so scrolling and refreshing is smoother than a typical E Ink device.
The Tab Ultra C has a plethora of features and top-of-the-line specs for an E Ink device. It runs Android 11 and is open to installing apps. There's an 8-core CPU under the hood, with 4GB of RAM and 128GB of storage. As if that's not enough space, it also has a microSD card slot, and the USB-C port supports OTG so you can connect external storage that way as well.
There's also a 16MP rear camera for scanning documents, it has a G-sensor to automatically rotate the screen, there's a fingerprint reader for security, and it has a frontlight with adjustable color temperature.
Like most of Onyx's eNotes, it has a Wacom touchscreen with support for 4,096 levels of pressure sensitivity, and it comes with Onyx's Pen2 Pro. The Note app also supports color, of course.
Check back in mid-May for a full review of the new Tab Ultra C. Normally I don't care about color E Ink screens very much after seeing the earlier versions, but I'm looking forward to testing out the Tab Ultra C, and it's been a couple years since I last reviewed an Onyx device, the last being the Nova 3 Color and I was not very impressed with it.