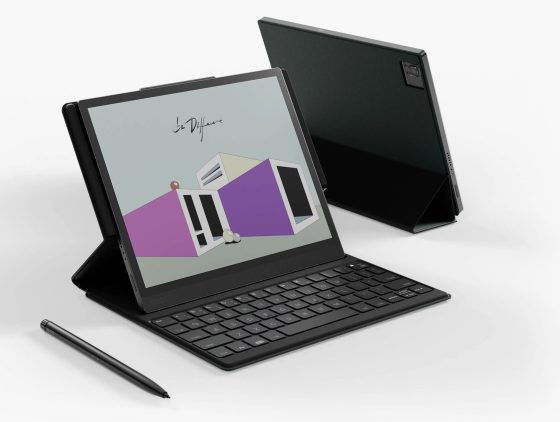 Onyx is finally releasing a large-screen color E Ink device called the Boox Tab Ultra C. Onyx has released a few smaller ereaders with color screens over the past few years, but this is their first 10-inch model to have a color screen.
The Tab Ultra C features a 10.3-inch E Ink Kaleido 3 screen that has 300 ppi for black and white content and 150 ppi for color content. That makes the Tab Ultra C the only 10-inch E Ink device with 300 ppi other than the Kindle Scribe. However, color screens have less contrast than black and white screens because of the added color filter layer over the top so it's kind of an apples to oranges comparison (the Scribe's screen will still have better contrast and clarity).
It's also interesting to see color resolution at 150 ppi. Previously E Ink Kaleido screens had 1/3 the color resolution, so they all had 100 ppi for color. Apparently they found a way to increase resolution with the newer Kaleido 3 screens that were released last year.
Other than the screen, the specs of the Tab Ultra C are pretty much identical to the original Tab Ultra that was released about 5 months ago. There's 128GB of internal storage, 4GB of RAM, an octa-core CPU, it has a frontlight with adjustable color temperature, there's a rotation sensor, a 16MP rear camera, a microSD card slot, a fingerprint reader, a USB-C port, there's dual speakers and dual mics, and it has a Wacom touchscreen for notetaking.
I knew something was up when Onyx discounted the regular Tab Ultra by $40 last week—that's just something they never do unless a newer model is coming out. But that model will probably stick around for those that prefer contrast and clarity over color.
The new Tab Ultra C is available to pre-order from Onyx's website for $599. Shipping is scheduled for May 10th. They'll probably have them for sale on their Amazon store before then.
For some reason Onyx's uploaded three separate "introducing" videos and one unboxing video. I usually hate unboxing videos but at least it's more informative than the other videos:
Tab Ultra C Official Unboxing
Introducing Boox Tab Ultra C
Introducing Boox Tab Ultra C Again
Introducing Boox Tab Ultra C Yet Again