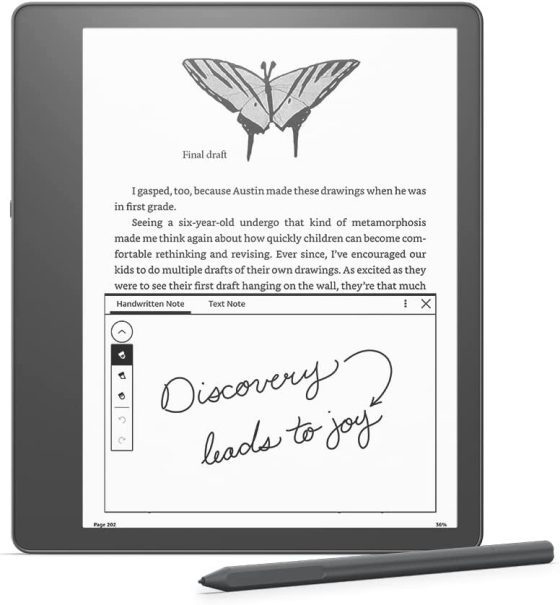 Amazon is currently offering a "Prime Exclusive Deal" on the Kindle Scribe where Prime members can get up to $70 off the regular price.
The 16GB version of the Kindle Scribe with the basic pen is selling for $282.99. That's $57 off and is the lowest price the Scribe has sold for since it was released last November.
The 32GB model with the premium pen is selling for $324.99. That's $65 off the regular price. And the 64GB model is $70 off at $349.99.
It doesn't look like any of Amazon's covers are on sale this time around, and all other Kindle models are still full price as well, although I would expect Amazon to roll out their annual Mother's Day sale on Kindles at some point in the next few days.
It's still surprising how cheap Amazon is selling the Kindle Scribe for, especially compared to similar 10-inch E Ink devices—and the price is almost as low as the 7-inch Kindle Oasis.
I thought maybe Amazon would stop offering such deep discounts on the Kindle Scribe after releasing some software updates to add more features, but so far that doesn't seem to be the case.
Last week they released an update for the Kindle Scribe that added contrast control to sent PDFs, two column mode for ebooks, and the ability to view multiple notebook pages at once and rearrange them. Now Amazon says an upcoming update is going to add text conversion and a lasso tool for editing notes, so it's good to see development continuing at a steady pace.
There's no indication how long this Prime Exclusive deal will last so it might just be for a day or two. If you don't have an Amazon Prime membership and still want to get this deal you can start a free trial and then cancel before the trial ends.