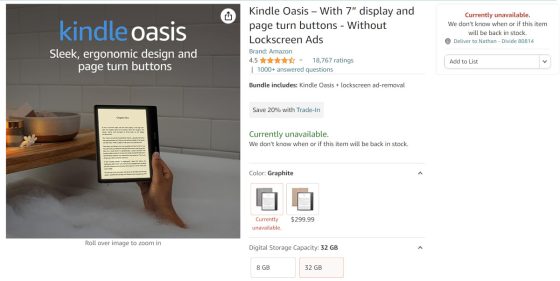 The Kindle Oasis 3 was released in July of 2019 so it's been on the market for a long time now by ebook reader standards. In fact, Amazon has never kept a Kindle on the market for this long without updating it or discontinuing it so something has to give eventually, and it's starting to look like that might be happening now.
The graphite version of the Kindle Oasis with 32GB of storage has been listed as "currently unavailable" for a while now on Amazon's website, with a note that says, "We don't know when or if this item will be back in stock". They still have the gold version available with 32GB, and the 8GB version is still in stock.
Over on Amazon UK, the gold version of the Kindle Oasis isn't available at all anymore. The 32GB Wi-Fi version and the cellular version are both listed as "currently unavailable". The graphite version is still available, though.
On Amazon's Canadian website, the 32GB version of the Kindle Oasis with Wi-Fi is "temporarily out of stock" but it can still be ordered.
It's starting to look like the 32GB Kindle Oasis is becoming hard to find in a number of countries, not just one.
This is the kind of thing that usually starts to happen when Amazon has decided to phase out a particular Kindle model, like the Kindle Voyage back in 2018. They started phasing it out about 3.5 years after it was released, and by the 4-year mark it was no longer available to purchase new.
I wouldn't be surprised to see Amazon heavily discount the Kindle Oasis for Black Friday to help clear out the remaining stock. They can't keep selling what was supposed to be a top-of-the-line Kindle that is now clearly outdated compared to newer models forever.
It would be nice to see Amazon release a new version of the Kindle Oasis, but after nearly 4.5 years now that's looking extremely unlikely. They updated the Paperwhite 3 after three years but they've never waited this long to upgrade a model before. The first gen Oasis was upgraded after just 1.5 years, and the second gen Oasis was replaced after 2 years, so at 4 years and 4 months the Kindle Oasis 3 looks like it's going to be the last in the Oasis line, and its days are numbered.