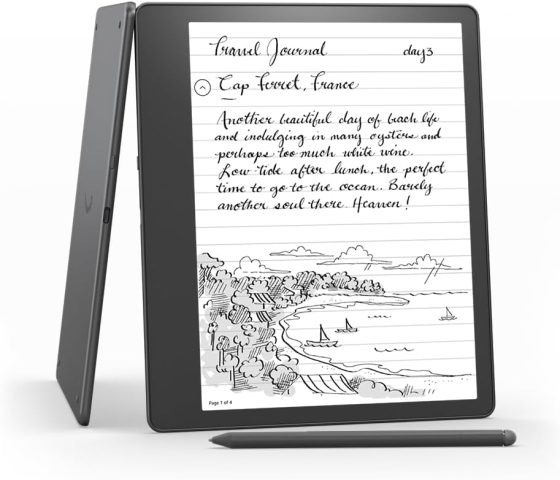 Amazon has been releasing an inordinate number of software updates for Kindles lately, and that trend continues with the second update in the past month for all 10th and 11th generation Kindles, as well as the Kindle Scribe.
The latest update is version 5.16.5, and it adds some notable new features to the Kindle Scribe. They added a multiselect option to the Notebook Overview page to help make organizing, deleting and sharing notes easier, and they also added the option to share current pages in Notebooks.
Like usual, the release notes are confusing when it comes to 10th and 11th gen Kindles. They say that collections are now viewable in list format, but that change happened several updates ago back in August so I don't know why they're just mentioning it now. And there's also nothing about the new web browser that showed up after the last update.
The 5.16.5 update is available for the Kindle Scribe, the Kindle Paperwhite 4 and 5, the Kindle Oasis 3, and the last two entry-level Kindles from 2022 and 2019.
Here's the release notes for the Kindle Scribe; other Kindles just show the note about collections view:
Version 5.16.5 – November 2023

Here's what's new:

View Collections with list layout: In Library, you can now switch to Collections view and select either Grid or List layouts to view your content. These settings can be found by tapping on the view and sort menu icon in the top right of Library.

Multiselect in Notebook Overview: In the Notebook Overview for any notebook, you can tap on "Select" in the top toolbar or long-press on any page to select multiple notebook pages and make bulk actions such as add, delete, move, or share.

Share Current Page in Notebooks: On any notebook page, you can tap on the Share button to "Share current page" or "Share entire notebook".

Searchable PDF of your notebook: When using the Convert to text Share options, a searchable PDF of your notebook is available to search for keywords in your handwritten note when viewing the PDF on your phone or laptop.

Performance improvements, bug fixes, and other general enhancements.
Amazon tends to roll out Kindle updates gradually; you don't have to do anything to get the update. It'll install on its own at some point as long as your Kindle is connected to WiFi, but that can sometimes take several weeks.
If you want to install the update now you can download it from Amazon's Kindle Software Updates page and install in manually. You can find a link to the manual install directions on that page as well.