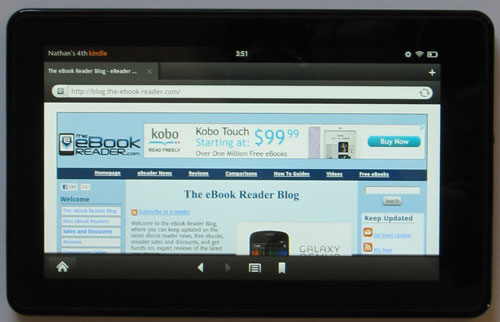 Below is a list of tips and tricks for the Kindle Fire. It includes tips for the beginner just getting started to advanced users looking to install alternate versions of Android such as Ice Cream Sandwich (mmm, yummy).
These types of posts work best when you add your own Kindle Fire tips and tricks and cool features in the comments section. So don't hold back!
Getting Started with the Kindle Fire
One of the best places to get information on the Kindle Fire is through Amazon's help pages. Here's the Kindle Fire section. From there you can find dozens of Kindle Fire help articles for everything from transferring items to managing digital content, and there's stuff like the user guide, software updates, and warranty information too.
The Kindle Fire comes with an app called "Help & Feedback" to easily access Amazon's help pages from the Kindle Fire itself.
Amazon has a Getting Started with the Kindle Fire article in the Kindle support section that includes information about getting Wi-Fi setup, registering the Kindle Fire, and setting up payment info. It includes a couple of videos. This is a very basic tutorial for beginners.
Amazon has second page called New to Kindle Fire? Start Here with more advanced help. This page covers how to charge the Kindle Fire, how to setup passwords and restrictions, setting the time, and some other miscellaneous details—a lot of the stuff covered below.
Getting eBooks
The Kindle Fire connects to Amazon's ebookstore for content obviously. If you are new to the Kindle ecosystem, a couple of good places to start getting ebooks includes the Kindle Daily Deal, the 100 Kindle Books under $3.99 section, the free popular classics section, and the top 100 best-sellers and top 100 free ebooks page.
The Kindle Fire supports Library ebooks too. You can use the Kindle method or install the OverDrive Android app and then use it to shop for and download library ebooks directly.
Loading non-Amazon eBooks and Personal Documents
The best way to load non-Amazon ebooks and personal documents onto the Kindle Fire is to email them to the Kindle Fire's free email address. This can be found under Settings > My Account, and can be modified from the Manage Your Kindle page under personal documents settings.
The Kindle Personal Documents Service supports these specific file types: .DOC, .DOCX, .HTML, HTM, RTF, .JPEG, JPG, .MOBI, .AZW, .GIF, .PNG, .BMP, .PDF, and .ZIP.
If you have a whole bunch of files you can put them all in a ZIP package and send them and they will be unpacked automatically upon arrival on the Kindle Fire.
Another option, say you download a MOBI ebook with the web browser and want to read it in the Kindle Fire's reading app. The file won't open the Kindle app from the browser so you have to use a File Manager such as ES file Explorer (free in the Amazon appstore) and move the downloaded ebook from the "Download" folder to the "Documents" folder. Then the Kindle Fire has to be restarted for it to show up in the documents list.
Epub eBooks on Kindle Fire
Aside from getting ebooks from Amazon, you can load apps from other ebookstores such as Barnes and Noble and Kobo onto the Kindle Fire to download ebooks from non-Amazon websites. Here's a list of Android ebook apps for the Kindle Fire.
Android Apps
Free Paid App Daily: Make sure to open your Kindle Fire's appstore each day to download the free paid daily app.
Kindle Fire Apps: Here's the section at Amazon for Kindle Fire apps.
Clear app defaults: Settings > Applications > Select App > Clear Defaults.
Uninstall apps: Long-press on the carousel and select "Remove from Device" or go to Settings > Applications > Select App > Uninstall.
Alternate Appstores, Homescreens, and Sideloading Apps
Installing Non-Amazon apps: To install apps from appstores and websites other than Amazon, you need to go to Settings on the Kindle Fire, then Device to select the option to install apps from unknown sources.
Here's a list of some places to download Android apps other than Amazon: Android Freeware, GetJar, SlideMe, 1Mobile.
Another option is to visit developers websites for specific apps. Not all host them but some do.
Go Launcher: You can install a separate homescreen to bypass the Kindle Fire's regular homescreen for a more traditional Android tablet feel. Most launchers aren't working but one that does is Go Launcher. Check out these directions for more info: How To Install a New Homescreen and Bypass Carousel Without Rooting.
Copy and Paste
To copy, touch and hold on a word until the highlight and arrows popup. Drag the arrows to the desired location then tap the highlighted area to copy to the clipboard. Then go to any text field, long-press, and select paste.
Change Kindle Fire Name
You can change the name that appears on the upper left corner of the Kindle Fire by going to the Manage Your Devices page at Amazon.
Storage Space
To check available storage, go to Settings > Device to see the amount of internal storage and application storage. The Kindle has no memory card slot and limited storage space. Given that, here are Three Ways to Expand Storage Space.
Cloud Storage and Music
Amazon offers cloud storage for the Kindle Fire since it doesn't have a memory card slot for expansion. You get 5GB free and then plans start at $20 per year for 20GB and go up from there. Click here to learn more about Amazon's Cloud Drive.
You can upload all kinds of files into Amazon's cloud, including your music library. Here's the directions for uploading music from your computer to your Amazon Cloud Drive.
Aside from Amazon's cloud storage, you can use other cloud storage services like Dropbox and SugerSync in conjunction with the Kindle Fire as well.
Another option, instead of using cloud storage, you can access and stream media from your PC from anywhere in the world with a Wi-Fi connection using the Splashtop Android app. I haven't tried it on the Kindle Fire yet, but it works great and I use it all the time with the ASUS Transformer.
Free News Subscriptions
Like many other devices, you can setup Calibre to retrieve RSS news feeds for free on the Kindle Fire. What's great about the Kindle Fire is the free email address, so you can have Calibre automatically deliver the news and have it show up in the Docs section.
Setting Passwords and Restrictions
From the settings menu, tap Security, then Lock Screen Password to make it so that your Kindle Fire requires a password each time you turn it on. From there you can set different administrators as well.
Another option, you can go to Restrictions from the Settings menu to make it so your Kindle Fire requires a password to access the internet. This can be helpful if your kids are using the device and you don't want them making accidental purchases or browsing the web.
Maximizing Battery Life
Here are some quick tips to help maximize battery life on the Kindle Fire:
Lower the screen brightness.
Turn off Wi-Fi when not in use.
Use headphones instead of the speakers.
Change apps settings: some apps like the email app and news apps are set to check for new mail or updates at certain intervals. Sometimes you can reduce how frequently an app checks for updates or messages.
Use the back button to exit apps instead of the home button (Android leaves apps open in the background; using the back button to exit usually closes them).
If an app is still running and you want to close it go to Settings > Applications > Running Applications and then tap an app and hit force stop to close it.
Use Badass Battery Monitor (free at Amazon) to monitor your battery life and to keep on top of apps that use excessive energy.
Kindle Fire Rooting and Android Development
Video: Kindle Fire Tips and Tricks