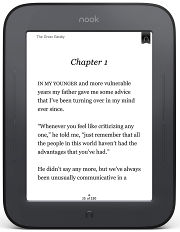 Last week an anonymous person left a comment on this blog saying that Barnes and Noble will be releasing a new Nook Touch soon and that it will use Flex Lighting.
Thinking on it, given the timing and the circumstances, I would say the chances of Barnes and Noble releasing a new Nook Touch with Flex Lighting in the next few weeks is very high. In fact, I'd be willing to bet on it (any takers :)).
In case you missed this video showing Flex Lighting in action, what it is is a thin LED lighting film that goes over the top of the E Ink display. It is supposedly invisible and doesn't effect the clarity of the text in any way. The light can be turned on and off, and the brightness can be adjusted.
The technology is also supposed to be energy efficient because only 1 or 2 LEDs are required for a 6″ screen. The Nook Simple Touch's battery only needs to be charged once every 2 months as it is, so it's likely not going to be much of a problem if adding a night light makes battery life a little less.
The one thing E Ink ereaders really need moving forward is light. Electronic paper doesn't generate its own light; it is a reflective display that depends on ambient light for illumination. That's why E Ink ereaders aren't suitable for reading at night without a reading light or lamp.
And one of the main reasons color E Ink has yet to take off is the fact that colors appear too dull and washed-out without bright lighting. Add an LED light to the surface and it could make a big difference.
No ereaders use Flex Lighting yet, or anything like it, so the Nook Touch would be the first. Several years back, when ereaders were first getting started, Sony released the PRS-700. It had a lighted screen, but used LED lights along the sides of the screen. The lighting wasn't uniform and the screen was prone to reflections because of Sony's old touchscreen layer, so it was a huge bomb, and was off the market in less than 8 months.
Last year everyone was jumping on the Neonode infrared touchscreen bandwagon—Sony was first the year before, then came Kobo with the Kobo Touch, then B&N with the Nook Touch, and finally Amazon with the Kindle Touch. This year might be the year of the Flex Light ereader…even if the Nook Touch isn't the first.
One thing is clear: Barnes and Noble is going to release a new Nook soon, whether it has Flex Lighting or not. The Nook Simple Touch is nearing its one year birthday in June and B&N has been running sales on it all the time lately, especially the refurbished units on eBay (right now they are only $64.99).