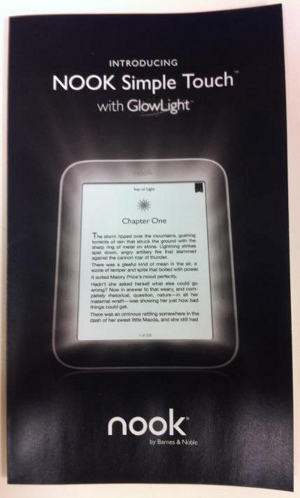 Well, it looks like the rumors and speculation were true.
Barnes and Noble does have a lighted ereader in the works—it's called the Nook Simple Touch with GlowLight—and they could announce it as soon as tomorrow or perhaps next week (now that the cat is out of the bag they might as well make it official). Update: B&N did make it official the very next day by announcing the new Nook Touch with GlowLight and putting it up for pre-order for $139.
The Digital Reader was lucky enough to obtain a picture (shown above) of one of the new posters advertising the lighted Nook Touch that Barnes and Noble stores are starting to get in.
There are no details beyond the photo, but it stands to reason there's a good chance the new Nook will be announced any time now if Barnes and Noble is getting signs ready.
It's likely the new Nook's GlowLight will use Flex Lighting as described earlier, unless B&N has something else up their sleeve. Regardless, it will have to be a front light of some sort since current E Ink technology can't have backlight like LCDs.
It will be interesting to see what color the light is and how it works. And I wonder if the new Nook will have any other new features or if it will basically be a copy of the last generation Nook Touch, which still stands up to the competition quite well even though it's nearing its one year birthday, but it still could use some improvements.
The photo of the new Nook Touch with GlowLight looks about the same as the regular Nook Touch. The front of the bezel looks a little rounder but it's hard to tell. The shape and design is the same. It looks like it has a light border on the outside edge like the mysterious white Nook Touch that B&N sold for just one day last Black Friday. It will be interesting to see how it turns out.