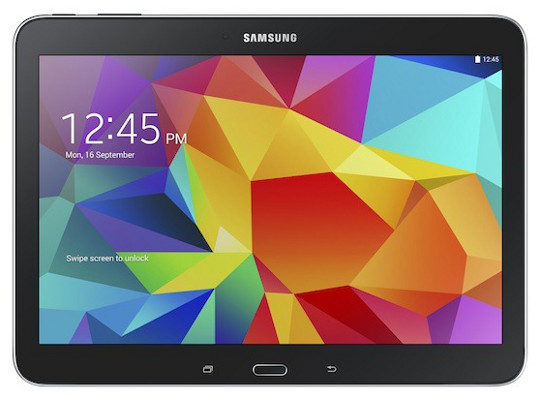 If you are looking for some helpful tips and tricks for the Samsung Galaxy Tab, you've come to the right place.
Below is a list of 50 tips and tricks for the Galaxy Tab 4 series. A video walkthrough is included at the bottom of this post as well to help give a visual representation of many of the tips included on this list. I used the 7-inch Tab 4 that I recently reviewed in the video tutorial, but the tips apply to the 8 and 10-inch models just the same, and probably the older Galaxy Tab lines to some degree. Feel free to add any additional tips in the comments section.
50 Tips for Samsung Galaxy Tab 4
1.Official Samsung Galaxy Tab 4 Help and Support Page – This is the official product support page on Samsung's website. It includes everything from product registration, to troubleshooting guides and FAQs. Customer support contact information is located on that page as well, including a phone number, live chat, email, and social networks.
2. Galaxy Tab 4 User Manual – Here's the direct link to the PDF download for the user manual. The preinstalled Hancom PDF viewer will get the job done, but if you want to try some other PDF readers see #28.
3. How to Take Screenshots – There two ways to capture screenshots. First, press and hold the power button and home button at the same time. The second way is to swipe the side of your hand across the screen from right to left, with the side of your palm lightly brushing the screen.
4. Access Notifications Menu and Settings – Swiping down from the top of the screen with one finger opens the notifications menu. You can scroll right through the icons to show more options. The settings menu can be accessed by tapping the gear icon..
5. Lock Screen Rotation – There's the option to turn auto screen rotation on and off from the quick settings menu on the notifications menu.
6. Change Notification Panel Icons – If you open the notifications menu and tap on the square icon in the upper right corner, you can choose which items appear on the quick setting menu by hitting the edit button. Also accessible from Settings > Device > Notification Panel.
7. Check Available Storage Space – You can check the available storage space on your device and see how all the storage is being used in Settings > General > Storage.
8. Check Battery Usage – You can find all the information about the battery from Settings > General > Battery and use to graph to identify apps that are using too much power.
9. Check Data Usage – There's a nifty little data usage graph that shows you how much data is being used on your device, and which apps are using the most. Located at Settings > Connection > Data Usage.
10. Power Saver Mode – The Galaxy Tab 4 has a power saving mode to help increase battery life. This can be turned on and off from Settings > General > Power Saving Mode.
11. Setup Additional Users – The tablet is designed to allow different users to have individual profiles, and there are even restricted profiles for children with limited access. This is done from Settings > General > Users.
12. Customize Lock Screen – The lock screen is fully customizable. You can change the wallpaper, change the unlock effect, add app shortcuts, change the clock widget, add a password or PIN, and add personalized messages and contact information (in case you lose the tablet). This is all located under Settings > Device > Lock Screen.
13. Turn on Developer Options – A whole bunch of developer options and settings can be turned on by gong to Settings > General > About Device. Tap on the build number seven times to open the developer settings. Only use these if you know what you are doing.
14. Change Wallpapers – You can change the wallpaper image on the homescreen and lock screen by long-pressing on an open area on the homescreen, or by going to Settings > Device > Wallpaper.
15. Change Fonts – Unlike most tablets, the Galaxy Tab lets you change fonts for the entire interface. There's a list of preloaded fonts that you can choose from, and there's a huge list of additional fonts that you can purchase for 99 cents each. Font options are located under Settings > Device > Font. You can also change the size of text with this setting as well.
16. Block Notifications – The Galaxy Tab offers a blocking mode located at Settings > Device> Blocking Mode that lets you turn off notifications for a period of time, and can even be set to automatically turn on and off at set times. This works well if you don't want to be bothered at night, for instance.
17. Battery Percentage – The battery icon in the status bar has a percentage meter that can be turned on and off. Located at Settings > Device > Display.
18. Screensaver – The Galaxy Tab 4 has a screensaver mode for when your device is docked or charging called "daydream". This can be customized and turned on and off under Settings > Device > Display.
19. Change Notifications Sound – You change the sound the device makes when you receive emails and other notifications by going to Settings > Device > Sound. If you don't want to hear notifications at all you can set it to silent.
20. File Manager – The Galaxy Tab doesn't come with a proper file manager app. The included My Files app is rather confusing and is slow. Something like ES File Manager works a lot better for locating and managing files on a tablet.
21. Multi Window Mode – When multi window mode is turned on under Settings > Device you can open the list of apps that work in this mode by swiping left from the right edge of the screen, or by holding the back button. Simply drag the app icon to the screen to open. Then repeat to open another app at the same time. Use the blue circle to customize the size of the windows; tap it to bring up additional options. See the video below for more tips.
22. Change Multi Window Apps – Not all apps can be used in the multitasking mode. To change the apps on the list that can be used, tap the two lines at the bottom of the app list, then select edit.
23. Smart Stay – The Galaxy Tab has a feature called Smart Stay that can sense when your eyes are looking at the screen. With this turned on, the screen always stays on for as long as you are looking at it. Can be turned on and off in Settings > Controls.
24. Palm Motion – The Galaxy Tablets have a palm motion setting that lets you capture screen shots by swiping your hand across the screen (see #3). It also can be used to mute and pause media by covering the screen with your palm. Can be turned on and off under Settings > Controls.
25. Connect to Nearby Device – The device can be connected to computers and other devices to share content over Wi-Fi. All the options for this are located in Settings > Connection > Nearby Devices.
26. Recent Apps Button – The recent apps button will bring up a list of apps in use if you tap it once. Hold the recent apps button and it will open the menu for the app you are viewing.
27. S Voice Assistant – There's a virtual assistant app included that can respond to certain commands like opening a file or launching an app. Tap the home button twice to launch S Voice.
28. PDF Reader Apps – If the built-in PDF app doesn't have all the features that you want, there are much better options out there; here's a list of the Best PDF Android apps both free and paid.
29. eReading Apps – The Galaxy Tab 4 comes with the Google Play Books apps for reading ebooks. Below is a list of some additional ereading apps for Android.
30. Remote Access – Under Settings > General > Security you can setup the device so that you can control it remotely if you ever lose it or it is stolen. You can use this feature to lock and track the device, and even delete all your personal data remotely.
31. Create Folders – You can create folders on the homescreen to organize content. Simply long-press on an open space from the homescreen to bring up the menu to add folders.
32. Add Homescreen Windows – You can add more windows to the homescreen by long-pressing and choosing to add a page. You can also accomplish this by holding the recent apps button from the homescreen and selecting the plus screen.
33. Widgets – A number of widgets can be added to the homescreen. Widgets are located in a section of the app drawer. You can add and move widgets simply by long-pressing and dragging them. You can also re-size many widgets by long-pressing and then adjusting the orange lines that appear.
34. Task Manager – The Galaxy tablets come with a built-in task manager that can be accessed from the recent apps list. Just hit the recent apps button and choose task manager.
35. Keyboard Handwriting – Instead of typing letters with the keyboard, you can use your finger to write text and then it will convert it to typed text. With the keyboard open, hold the settings icon button, then select the icon that looks like a T.
36. Voice Typing – Instead of typing out words manually, you can use voice typing to speak aloud what you want to be converted to text. With the keyboard open, hold the settings icon and choose the microphone icon.
37. Select Text & Copy and Paste – When using apps with text, you can select and copy text by long-pressing on the word and then dragging the little arrows. To paste, long-press in any text entry field to bring up the option. A cool thing with Samsung tablets is they have a clipboard that multiple selections can be copied to.
38. Wi-Fi Tip – By default, Wi-Fi is set to be on all the time, even when you are not using the tablet. This is an unnecessarily waste of battery power. To change it so Wi-Fi turns off when the device isn't in use, go to Settings > Connection > Wi-Fi. There's three vertical dots in the upper right corner that opens a menu with additional options. Choose advanced, then change it to Never where it says "Keep Wi-Fi on during sleep".
39. GPS Test – The Galaxy Tab 4 comes with GPS built-in. You can test GPS and get a bunch of reading by using this GPS test app.
40. Uninstall Apps – Go to Settings > General > Applications. Choose the app and then select uninstall.
41. Turn Off App Notifications – If you have an individual app that is annoying you with notifications and don't want to be bothered by it anymore, you can turn off notifications for apps individually if you don't want to turn off all notifications. Go to Settings > General > Applications. Choose the app then tap on the box for show notifications.
42. Clear Default Apps – If you set an app as the default choice, such as the Chrome web browser, you can clear that by going to Settings > General > Default Applications.
43. Clear Cached Data – If you are running low on memory, you can clear up some space by going to Settings > General > Storage and tap on cached data to clear it.
44. Backup and Restore – Android tablets have the option to back up your data on Google's servers. And with automatic restore enabled, all the applications and settings will remain if you restore the tablet. For some reason my Tab 4 thought it was my Nexus 7 and automatically restored to its state when I first used it. Located at Settings > General > Backup and Restore.
45. Factory Data Reset – If you ever want to sell your device or give it away, make sure to wipe all your personal data from it first. Located at Settings > General > Backup and Restore > Personal Data.
46. Register to Redeem Perks – Make sure to register your Galaxy Tab 4 with Samsung to receive your free perks, which includes a $25 gift card for Google Play and some free trials.
47. Free eBooks – The Galaxy Tab 4 makes a good ereader. Here's a list of websites where you can download free ebooks.
48. Free Monthly Kindle eBook – Samsung and Amazon partnered to offer an exclusive Kindle for Samsung app. The main benefit of using it over the regular Kindle for Android app is to get a free ebook per month through Samsung's Book Deals.
49. Free Library eBooks – Like any Android tablet, the Galaxy Tab supports library ebooks downloaded for free from your local library. You need to install the OverDrive Android app or you can use the Kindle app to read library ebooks.
50. Free eMagazines – Like ebooks, many libraries now offer digital magazines as well. The free magazines are from Zinio and are totally free and have no return dates; you can even download back issues.
Samsung Galaxy Tab 4 Tips and Tricks Video