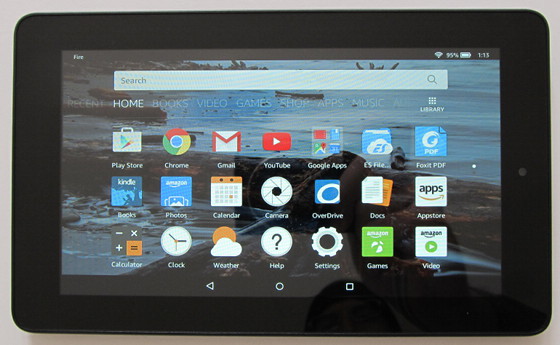 This is a first. Amazon has decided to give 4th gen Kindle Fire tablet owners the option to downgrade back to Fire OS 4 if they decide they don't like the new Fire OS 5.1.1 update that is automatically rolling out to Fire tablets.
The firmware rollback option is available for the Fire HD 6, the Fire HD 7 (the 2014 model) and Fire HDX 8.9—the 4th gen Fire tablets.
Fire OS 5 adds a completely new interface and homescreen, along with a number of new accessibility and added features, including the Blue Shade light filter and the Word Runner speed-reading tool.
Fire OS 5 is such a major change from Fire OS 4 that I can see why some people would dislike it at first.
Many people consider Fire OS 5 a big improvement because it gets rid of the carousel and makes Fire tablets more like regular Android devices from a user interface perspective. Plus Fire OS 5 makes it really easy to add Google Play to Fire tablets, no rooting required.
But if you're used to the old interface, I can see how having everything changed at once to basically a new tablet could be irritating (I've come to hate software updates myself after all the problems and hassles they cause, like stupid Windows 10 now requiring redundant lockscreen and sign-in steps, and forcing hour-long updates when you need to use your computer for work).
How to Downgrade to Fire OS 4
In order to downgrade, you have to login to your Amazon account and go to the Manage Your Content and Devices page.
Click on the Your Devices tab and choose the option to "Reset and Downgrade to Fire OS 4" from the Device Actions list.
Be aware that the downgrade will initiate a factory reset, which will remove everything from your tablet. Personal files will be erased, but all your Amazon content remains available in the cloud, of course, so it can be redownloaded after the reset.
Interestingly the downgrade doesn't happen right away. Amazon says that it could take up to 72 hours to complete. You have to leave your tablet turned on and connected to Wi-Fi so it can download the update, and the battery has to be at least 50% charged.
Once the download is finished, it will automatically reset and downgrade your Fire tablet, so make sure all your personal files are backed up before selecting to downgrade at Amazon.
The downgrade isn't permanent. You can choose to go back to Fire OS 5 at anytime. The option to upgrade will replace the option to downgrade on the Manage Your Devices page.
Amazon's help page reference: Reset and Downgrade Your 4th Generation Fire Tablet to Fire OS 4