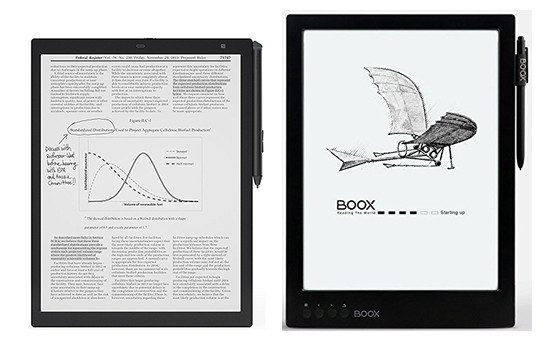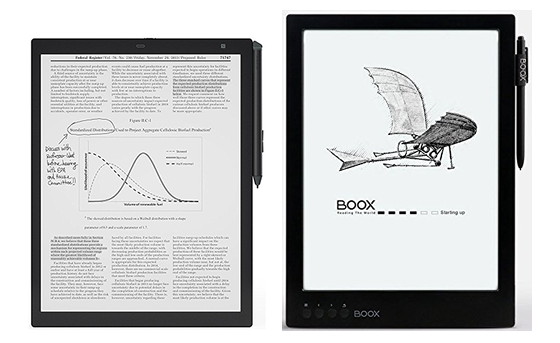 Now that 2018 is upon us, it's long past time for an updated list of the best ebook readers for reading PDFs.
Way back in 2010 I posted an article outlining the best PDF ereaders, and it's been updated a few times, but things have slowly changed over the years so it's time for an updated list as we look into 2018.
Note that this list includes ereaders with E Ink screens only.
In many cases you can get an iPad or other tablet for less with a lot more features than a simple ebook reader, so it just depends on what you're looking for and how much you want to spend.
Given the format, the best ereaders for PDFs are the ones with larger screens.
You can use a small 6-inch Kindle for PDFs, and it works pretty well in landscape mode, but if you want an ereader primarily for PDFs a larger screen is the better way to go.
The Best eReaders for PDFs
Onyx Boox – Onyx offers several large screen ebook readers, including the 10.3-inch Onyx Boox Note and the 13.3-inch Onyx Boox Max2, and there are some other options as well, including the Onyx Boox N96 with a frontlight. Onyx's PDF software is the most advanced of any ereaders, and their Android OS open to install apps.
Sony DPT-RP1 – The 13.3-inch Sony DPT-RP1 Digital Paper device is a good option for reading PDFs, along with its smaller brother, the 10.3-inch Sony DPT-CP1. The hardware is exceptional and the software is quick and responsive, although it does lack some basic navigation features, like table of contents support and the ability to go back. The Sony DPT-RP1 supports PDF format only so it's rather limited functionally, but it also doubles as a digital notepad with the included stylus pen.
Kindle Paperwhite – If you want a small and cheap ereader for PDFs, the most economical option is the Kindle Paperwhite 3. Amazon's PDF software is the same on all Kindles, and all but the entry-level model have 300 ppi screens, so they're mostly the same, but the Kindle Paperwhite is the best value for an inexpensive PDF reader, as it offers more PDF features than other brands like Kobo and Nook. The Kindle Oasis 2 has a slightly larger 7-inch screen but it's not large enough to make a difference.
Other Options for PDF eReaders
Kobo Aura One with KOReader – The 7.8-inch Kobo Aura One is another possible option, but the stock software is too basic. You can install KOReader to add a bunch of additional features, but it's kind of a hassle to deal with and the Aura One's screen size really isn't big enough—it's not significantly better than a 6-inch ereader when it comes to displaying PDFs.
Remarkable – Some people ask about the Remarkable in regards to PDFs but I don't consider it a viable option because the software is only half-finished. It's more of a digital notepad than an ereader. If they ever update the software to add more ereading features it might be a decent option but considering the high price it's hard to imagine it ever being a better choice than Sony or Onyx.