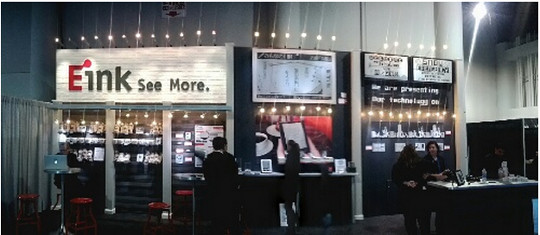 Earlier in the month David Carnoy from CNET posted details of an interview with E Ink, the company that makes the screens for the Kindles, Kobo and Sony ereaders, Nook, and most other ebook readers around the world.
Unfortunately the folks at E Ink didn't reveal very much new information that hasn't been talked about before. Most of it we've already seen, like the 13.3″ Mobius display co-developed with Sony, the E Ink Android-based smartphone from Onyx, and other non-ereader related products like watches and signs for advertising.
The most interesting thing mentioned in the article is the fact that E Ink plans to release a successor to their Pearl displays that are currently being used on most ebook readers. E Ink first introduced Pearl displays in July 2010.
E Ink hasn't officially announced these new displays yet, and they have not said what name they intend to call them. They could possibly be called Pearl 2, as E Ink named their second gen color screens Triton 2, or if there's enough of an improvement over the earlier Pearl screens they may call them something else entirely, as they did when moving from Vizplex screens to Pearl.
Details about the new generation of E Ink screens are slight at this stage, but E Ink's director of product management, Giovanni Mancini, did reveal a few key details in the CNET interview.
E Ink has reportedly developed a new technology that significantly reduces the amount of ghosting from page to page (ghosting is when faded text or images from the previous page remain after turning a page, which can happen more often when a device is cold or hot).
Most ebook readers today offer partial page refresh. This makes it so the page refreshes the text only and not the entire screen, which causes a black flash that some people don't like. Partial page refresh is limited to about 6 pages on most ebook readers before the entire page refreshes again. But the new generation of E Ink screens are said to potentially be able to read up to 100 pages without having to refresh the entire screen.
That's a considerable improvement over current technology. It might even be enough to make E Ink tablets more of a viable possibility. Smoother transitions and refreshes could make a big difference with something like a hacked Nook Touch.
A couple of other details mentioned with the new screens include slightly improved contrast and better optical performance that's better tuned for higher resolution screens.
Unfortunately E Ink didn't reveal any other details about the new screen tech. Only that they plan to officially unveil it by the end of the year, and that they expect some of their customers to announce products using the new screens. If one of those customers turns out to be Amazon, Kobo, B&N, or Sony, we could potentially have ebook readers with the new screens in time for Christmas.