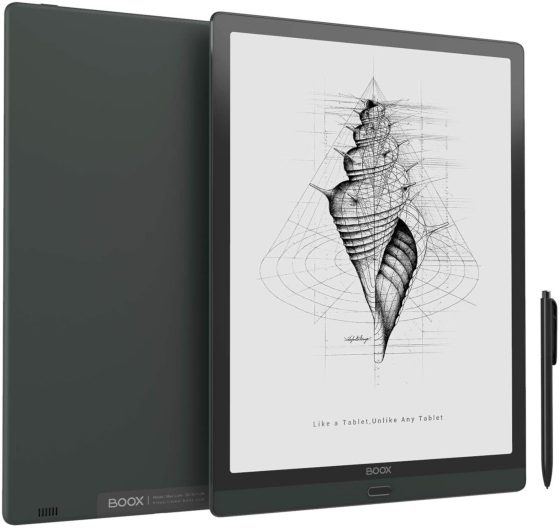 It's been a few months since Onyx released their latest lineup of new Boox ereaders, so based on the history of how Onyx operates they are undoubtedly working on a new set of models to release in 2021.
I thought it would be fun to try and predict what new models Onyx will come out with this year, especially since nobody releases more new models than Onyx.
Last year alone they released eight new ereaders. Some, like the Nova2, were replaced after being on the market for only 6 months, so new models might be coming sooner than you think.
Onyx's "upgrades" from one model to the next are often so minor that the differences can be unnoticeable in 99% of usage scenarios, but at least they're always keeping things moving forward, unlike Kindles that go several years without any improvements.
One thing that Onyx likes to do is upgrade the Android version each year because people think that matters but it doesn't really make much difference on a stripped-down E Ink device. Now they're finally catching up and only have one Android version left to go so it'll be interesting to see where they go from here. I would expect the new models to run Android 11, even though it won't make a lick of difference from their current lineup of devices that run Android 10.
Onyx usually demos new models this time of year at conferences, but obviously those aren't happening this year so let's speculate on what new models they plan to release in 2021.
New Onyx Boox Predictions
Note Air 2 (or Note Air Pro) – Based on the number of reviews, the Note Air has been the most popular new model that Onyx released last year, so it's all but guaranteed they'll release a second generation model or at least a "Pro" version with some upgrades in the coming months.
Note Basic – Boyue recently released a new budget 10-inch model called the Likebook P10 in China with a lower resolution screen, and it wouldn't be at all surprising to see Onyx release a similar model since they're always "borrowing" other companies ideas.
Note Color – The Bigme B1 Pro is the first device to surface with a 10-inch color E Ink screen. Again, if some other company is doing it, then Onyx most likely is too.
Nova Color – Considering the fact that PocketBook has already announced the upcoming release of a new 7.8-inch PocketBook Color ereader, the chances of Onyx releasing a new version of the Nova with a color screen is very high. I would bet it gets released this spring.
Poke3 Color – It will be interesting to see if Onyx decides to upgrade their first 6-inch color ebook reader, the Poke2 Color, but with such a small screen they might just decide to offer color on larger models like the Nova.
Note4/Nova4 – It seems crazy considering the Note3 and Nova3 were just released a few months ago, but Onyx's history says they will release "upgraded" models sometime in 2021 with Android 11 and minor hardware changes.
Max Lumi 2 – The Max is Onyx's largest model with a 13.3-inch E Ink screen, and the Lumi was the first version to come with a frontlight. Expect the next version to be largely the same but with Android 11 instead of Android 10.
Onyx Phone? – Last year around this time Onyx said they were going to release an E Ink phone, but then Hisense came out with a color E Ink phone and that seemed to send Onyx's phone into hiding because it's never been seen or heard from again. But there's still a chance that Onyx could release an E Ink phone in 2021.