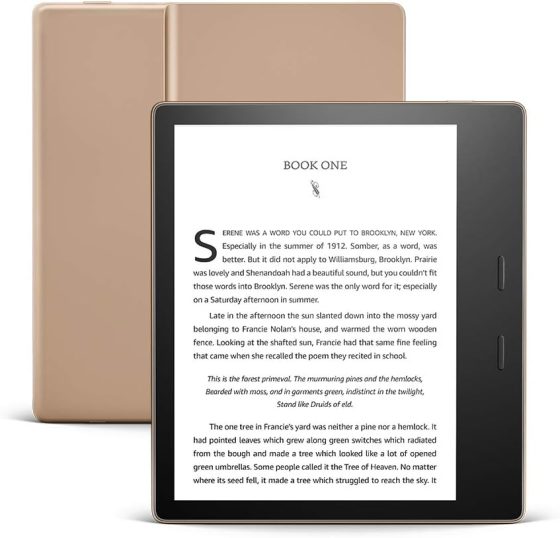 Looking over the history of Kindles, Amazon has always offered a Kindle with page buttons since the very beginning. But now it's starting to look like that might not continue for much longer if they're never going to release a new Kindle Oasis.
A lot of people have been expecting a new Kindle Oasis to come along ever since the latest Paperwhite was released back in 2021, but unless Amazon announces a new version in the next couple of months, I think we can finally put that argument to rest for good.
Some people have already given up on the idea of a new Kindle Oasis getting released, especially since Amazon added the Kindle Scribe to the lineup. I still think there's room for a mid-sized Kindle with page buttons, but I think it's more likely that Amazon would release a Mini Kindle Scribe before they'd release a new Kindle Oasis. From a marketing standpoint, it just makes more sense.
Hopefully if they go that route it'll have page buttons and stylus support, like the Kobo Sage, but there's a chance the Kindle Oasis 3 could be the last Kindle with page buttons.
Early Kindles had page buttons and mini keyboards until the 4th generation Kindle came along with a touchscreen, but Amazon continued to sell a basic Kindle with page buttons alongside it and the Kindle Paperwhite that proceeded it for several years.
Then in 2014 Amazon released the Kindle Voyage. It was the first Kindle to have both a touchscreen and page buttons, but the page buttons were sensors instead of actual physical buttons like previous Kindles, and they had adjustable settings for how hard you had to press them and how much haptic feedback they triggered as a response. It was a very unique setup that has not been duplicated since.
Then the first generation Kindle Oasis was released in April of 2016. It had a completely new design for a Kindle, and it brought back physical page buttons, but for the first time they were only on one side of the screen instead on on both sides because of the new asymmetrical design.
Amazon released a redesigned version of the Kindle Oasis with a larger 7-inch screen just a year and a half later. The Kindle Oasis 2 was released on the last day of October in 2017. Then Amazon released the Kindle Oasis 3 in July of 2019; the only noteworthy change was the addition of a warm frontlight, so they've been using the same design and hardware for nearly 6 years now.
Yeah, the design of the "current" Kindle Oasis goes back nearly six years. Looking back at how often Amazon updated Kindles before then, it's doesn't take an oracle to figure out the Kindle Oasis 3 is likely the last of its line. It's just a matter of how long they're going to continue to sell an outdated model.
The Kindle Paperwhite isn't going anywhere and neither is the basic Kindle. The Kindle Scribe is the new toy on Amazon's bookshelf that gets all the attention software-wise, and the Kindle Oasis is the odd model out, and it looks like page buttons are on the way out with it.