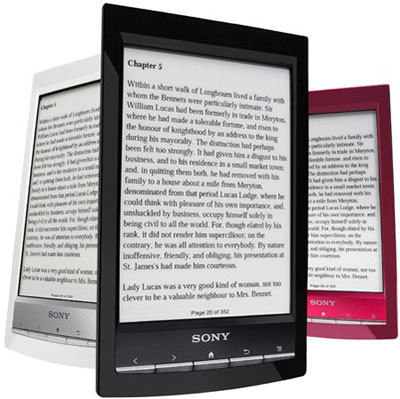 This post consists of a list of shortcuts for the Sony PRS-T1 ebook reader, along with helpful tips and tricks and how to tutorials.
It covers the basics for those just getting started as well as more complex details for advanced users, and includes a list of places to get free ebooks and where to buy ebooks compatible with Sony Readers.
Here's the link to the Sony PRS-T1 review for more details about its features and for some video walkthroughs.
Sony PRS-T1 Shortcuts and Tips
Check time: hit the menu button from homescreen.
Bookmarks: while reading, tap upper right corner of page to add and remove bookmarks.
Change dictionary: Settings > Application Preferences > Dictionary.
Fast page scan: while reading, swipe and hold down, or hold down page buttons.
Crop margins: while reading, hit menu, custom view, then crop page.
Notifications bar: open and close notifications bar by tapping black bar at top of screen. Access downloaded ebooks and files from here.
Change language: Settings > General Settings > Menu Language.
Password protect: Settings > System Management > Device Lock.
Go to: while reading, tap page numbers at bottom of screen.
Set default font size: Settings > Application Preferences > Books/Periodicals > Font Size Preference.
Delete, protect, return ebooks: from the library, long press an ebook for individual titles, hit menu to select multiple ebooks.
Standby: tap power button.
Power off: hold power button for 3 seconds.
Reset: hit small button on bottom edge.
Available memory: Settings > About > Device Information.
How to Export Notes and Highlights
Plug the Sony Reader PRS-T1 into your computer with the USB cable, open the Sony Reader desktop software if it doesn't open automatically, sync your content, then open the book with the notes/highlights using Sony's Reader software. Click the icon in the lower right corner second from the left to export the notes as an RTF file.
Library eBooks
The Sony PRS-T1 has the unique ability to download ebooks from libraries from the device itself. Check this earlier post for the library ebooks review and video review.
Rooting the Sony PRS-T1 to Install Android Apps
One of the cooler aspects of the Sony Reader PRS-T1 is that it runs Android and can be hacked to run various Android apps, including other ebook apps such as Cool Reader, FBReader, Kindle, and more. Plus the Reader's regular features still work just the same.
Rooting and un-rooting the Sony Reader is as easy as plugging it into your computer with a USB cable and double clicking a downloaded file.
Rooting Directions for Sony Reader PRS-T1 (Video)
Transferring eBooks/Files with Dropbox
Dropbox is a cloud storage services that works well for transferring ebooks and MP3 files wirelessly to the Sony Reader using the web browser instead of having to use a USB cable. Here's the article with the tutorial: How to Use Dropbox with the Sony Reader PRS-T1.
The Sony PRS-T1 and Calibre
One big misconception is that you have to use the Sony desktop software to manage your ebook library on a computer. That's not true. Most people elect to use Calibre instead because it is about a million times better. And you can also set it up to retrieve RSS news feeds and have them automatically converted to ebooks for free news subscriptions.
Screensavers
You can turn screensaver on and off by going to Settings > System Management > Standby Screen. From there you can also turn the message that appears on the screensavers on and off.
Another option is to show custom screensavers. The Reader supports image files and you can choose which images to use as screensavers from "select pictures" and it will cycle through them.
User Guide
The user guide comes pre-loaded on the Sony Reader. If you happen to erase it or want another copy, here's the link from Sony support for the PRS-T1 user manual.
Firmware Updates
Sony recently issued a firmware update for the PRS-T1 to improve usability and fix some annoying bugs. It is firmware version 1.0.03.11140. If your firmware is earlier than that, it's a good idea to install the update.
To check the firmware version, go to Settings > About > Device Information.
The Sony PRS-T1 doesn't install updates automatically, at least it hasn't thus far. There are two ways to update. You can use the Sony Desktop software. Open it with the PRS-T1 connected to your computer and then hit help and check for updates.
You can also update manually without using Sony's software by downloading the firmware update from Sony support and following the directions to install.
Calendar and Planner
Here's a calendar for the Sony PRS-T1. It is a PDF with links and bookmarks and a section for notes. Thanks to Heather for putting it together and sending it over.
Alternate Homescreen
If you have a rooted PRS-T1, you can install different Android homescreens as well as this alternate homescreen that lists your recently read titles and collections.
Fix Glossy Frame
If the glossy frame of the PRS-T1 is bothersome, you can always install a skin to cover the glossiness. The matte black skin from DecalGirl
is a popular choice. I bought a skin for the PRS-T1 from GelaSkins
. I ended up removing the front piece though because it didn't play nice with the lighted cover, which wraps slightly around the Reader's front and made the skin peel up at the edges.
Free eBooks
There are a gazillion places to download free ebooks for the Sony PRS-T1. Here's are some good places to start:
eBook Stores for Sony PRS-T1
The Sony PRS-T1 supports Adobe DRM so it can read ebooks from a number of sources, not just Sony. I was even able to login to my Kobo account and download ebooks directly with the Reader's web browser.
Here's a list of stores that sell ebooks that are compatible with Sony Readers: