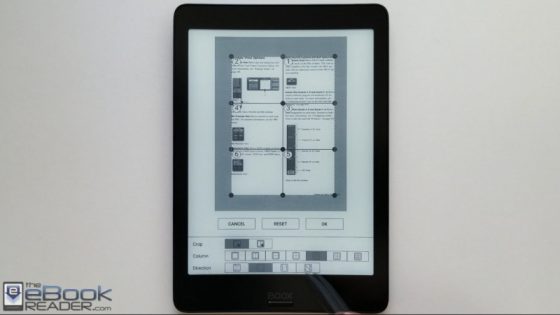 It's been nearly two years since last posting a list of the best ebook readers for reading PDFs, so here's an updated list for fall 2019.
In some ways not much has changed in the past two years. Onyx and Sony remain two of the three best options.
Boyue is a new entrant with the release of their 10.3-inch Likebooks.
A few other crowd-funded ereaders have turned up this year with large E Ink screens, but none have been included on this list yet as they still remain unproven.
Like usual this list includes ereaders with E Ink screens only. These are dedicated reading devices that are designed for reading PDFs, among other static content.
Some people like using iPads or other tablets for reading PDFs, but this list is for those that prefer reading on E Ink screens instead.
Obviously PDFs are best-suited for larger screens. You can use a 6-inch ereader in landscape mode, but if you really want a nice PDF reader these are the ones to choose.
The Best eReaders for PDFs
Onyx Boox – Onyx remains at the top of this list with their advanced PDF software and easy note-taking and exporting capabilities. Onyx's Neo Reader app that comes pre-installed on all Boox devices has more cropping, layout, and adjustment settings for PDFs than anything else on the market. Plus the Android-based software and Wacom stylus support make Onyx's devices a lot more versatile than a typical E Ink device. To me the best Onyx ereader for PDFs is the Onyx Note Pro, but it's currently getting replaced by the new Onyx Note2 so that'll be the top choice moving forward. There's also a larger 13.3-inch Onyx Max3 model. Some people really like the larger screen for PDFs, but the price is pretty insane at $859. The Note is more affordable, and the 10.3-inch screen is still perfectly adequate for most PDFs. Plus the Note has a frontlight and the Max does not. Onyx has some smaller models as well that are more affordable, including the 7.8-inch Onyx Nova Pro. The smaller screen isn't optimal for PDFs but it has the same advanced PDF software as Onyx's larger devices so the cropping features can help make it manageable.
Likebook Mimas – Sometimes I give Likebooks a hard time because they are basically Onyx clones with less optimized software and fewer features, and while their native ePub app is awful, the PDF support is pretty decent with a wide range of features. The 10.3-inch Likebook Mimas is one of the less expensive options for a large E Ink device at $459. Plus it has a frontlight, page buttons, and a microSD card slot, which is a rarity these days. There's a newer Likebook Alita, but at the price they are asking you're better off spending $20 more for the Onyx Note Pro.
Sony DPT-RP1 – Sony's 13.3-inch Digital Paper device is still a good option for reading PDFs in 2019, along with the smaller 10.3-inch Sony DPT-CP1. Sony's hardware is exceptional and the software is quick and responsive too, although the software does lack some features and the Sony DPT-RP1 only supports PDF format and nothing else so it's a lot more limited than other devices functionally.
Other Options for PDF eReaders
Kindle Paperwhite – The cheapest option is a Kindle, but obviously a 6-inch screen is going to be a last resort for reading PDFs. Small screen aside, the Kindle's PDF software is better than other cheap 6-inch models, notes and highlights are easily exportable, and you can have Amazon convert PDFs to Kindle format for reflow. Some people ask if the Kindle Oasis is good for PDFs. But to me a 7-inch screen is no better than a 6-inch screen when it comes to reading PDFs so why spend twice as much. In which case the Kindle Paperwhite with a 300 ppi screen is the best economical choice, although it's going to be a poor option overall compared to larger models on this list. In fact you might be better off just getting a Fire HD 10. Why can't Amazon just release a larger Kindle?
Kobos with KOReader – Kobo's built-in PDF software is very basic, but there's an open source program called KOReader that you can install on Kobo devices that adds a lot more features for reading PDFs. The only problem with an option like this is it's not an official feature so you're relying on other people to keep the software working properly through unpredictable software updates and future changes.